Enterprise System and IoT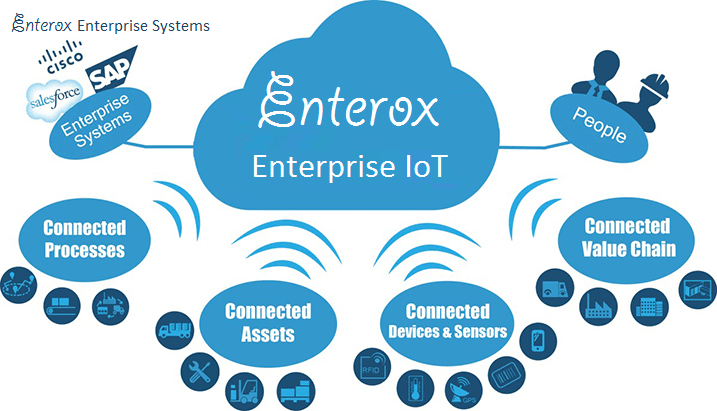 Enterprise System and Internet of Things (IoT)
Enterprise System and Internet of Things is enabled by the latest developments in embedded systems, smart sensors, communication technologies, and Internet protocols. The basic premise is to have smart sensors and actuators deliver a new class of enterprise applications. The current revolution in Internet, mobile, device-to-device (D2D) and machine-to-machine (M2M) technologies can be seen as the first phase of the IoT. In the coming years, IoT is expected to bridge diverse technologies to enable new applications by connecting physical objects like devices and machines with business applications to support intelligent decision making.
A growing number of physical objects are being connected to the Internet at an unprecedented rate realizing the idea of the Internet of Things. IoT has provided a promising opportunity to build powerful industrial and enterprise systems by leveraging the growing ubiquity of radio-frequency identification and wireless communication with mobile and sensor devices. A basic example of such objects includes vehicles with GPS tracking that connect with monitoring and control systems to enable smart logistics or machines with Programmable Logic controller (PLC) connected with asset performance management systems. There are various other domains in which the IoT can play a remarkable role and improve the quality of our lives. These applications include transportation, healthcare, industrial automation, retail, real-estate and hospitality industry.
Business operations in current generation enterprise involve numerous types of decision-making at various levels and domains. A complex system has a large number of design variables and decision-making requires real-time data collected from machines, processes, and business environments. Enterprise systems are used to support data acquisition, communication, and all decision-making activities. Therefore, information technology (IT) infrastructure for data acquisition and enterprise integration require adaptation for the dynamic and distributed environment.
IoT is anticipated to enhance enterprise system efficiency, facilitate new business models, and align physical operations with digital assets on a real-time basis. Cloud and Big Data technology support Enterprise systems further as they provide scalability and intelligent insights. The goal is to generate insights, allowing for faster, accurate and appropriate decision making, and fostering a more customer centric business.
Enterox has been appreciated for its role and contribution in shaping the evolution of Industrial and Enterprise Internet of Things; particularly in establishing standards for communication between embedded IoT devices, IoT platform and enterprise software systems.
Enterprise IoT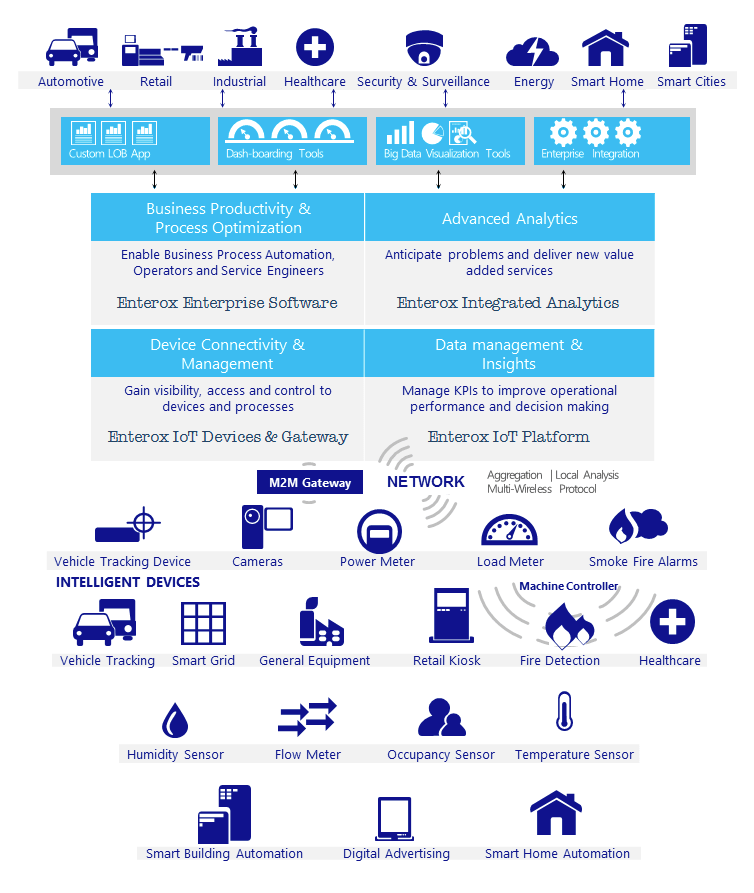 Enterprise Internet of Things (EIoT)
Enterprise Internet of Things or simply Enterprise IoT is the next advancement in technology that enables physical 'things' with embedded computing devices (tiny computers) to participate in business processes for reducing manual work and increasing overall business efficiency.
There are many examples of IoT applied in the enterprise system today. Top enterprise use cases include connected cars, fleet management, remote asset management, building automation, energy management, smart metering, connected healthcare solutions, connected retail store management, and smart warehousing.
Enterprise IoT platforms such as Enterox IoT platform that integrate with ERP, MRP, and business intelligence systems to deliver the most useful insights to decision makers are being implemented as a part of Enterprise IoT strategy along with enterprise application integration (EAI) projects. While Enterox is gaining attention for its end-to-end offerings with it's Enterprise IoT solution, Enterox IoT platform essentially helps organizations in connecting devices for acquiring data that is relevant for enterprise systems and at the same time providing controls in the enterprise systems for managing such devices.
In general, most enterprises adopt IoT applications to save costs. For example, they may want to reduce the use of energy, reduce the chance of theft, or reduce the probability of factory equipment failure. However, some enterprises are using IoT to develop new services. Manufacturing and construction companies are using IoT to improve safety by launching collision-avoidance services to reduce accidents and injuries at sites, automotive manufacturers are embedding connectivity in their products so cars notify their drivers when it's time for tune-ups, and medical device manufacturers are launching new healthcare services with connected products.
Internet of Things will play a key role in enterprise systems with the right level of integration, IoT will act as a bridge between the physical assets and the IT infrastructure. Enterprise IoT improves the efficiency of supply chain management and material resource planning. Through asset tracking, remote monitoring, and predictive maintenance, organizations will be able to realize a better return on investment.
Enterprise Integration with IoT requires extending connectivity from enterprise and the cloud to devices at the edge of network. Enterox IoT gateway between IoT devices that capture or generate data, such as sensors, and back-end applications that consume the data. Enterox IoT Platform communicates via lightweight protocols including Zigbee and MQTT/TCP, or to sensor gateways via HTTP, allowing scalability and connectivity for managing and analyzing data from thousands of devices at the edge of network. Connecting all of the devices in distributed locations (e.g., retail stores, manufacturing or healthcare facilities), including servers, desktops, point-of-sale systems and kiosks to perform remote management.
Internet of Things can be used to automate and monitor a large number of things. For example, meeting room lights and air conditioning could turn on when they sense people nearby. Being able to keep track of any and all data produced by connected devices and using that to automate the menial tasks that take up time in the workplace could do wonders for businesses and efficiency overall.
---
Get In Touch For News On Enterprise IoT!
Know more about "Enterprise IoT" and become a part of a growing alliance of Enterprise IoT network of companies.
Get in touch