Enterox Systems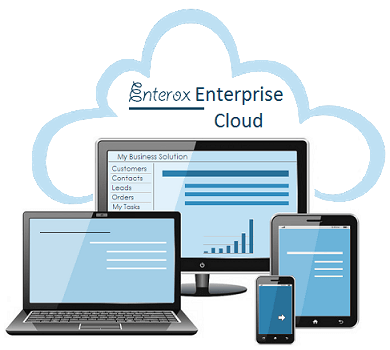 Enterprise - Cloud Server & ERP Software
Enterox - Enterprise Software, Cloud Server hosts a variety of cloud based ERP software for automating and supporting critical business processes. It provides ERP modules for Supply Chain Management (SCM), Customer Relationship Management (CRM) along with several other ERP packages.
Further, Enterox Enterprise Cloud also serves as a base for Custom ERP Solutions that inter-connects with other software systems and embedded computing devices, thus becoming an Internet of Things (IoT) platform for enterprises.
There are several business applications (called solutions) available to be deployed on Enterox Cloud Server. The top 10 ERP solutions include -
Business Activities (Integrated with Email & SMS gateway)
Product/Service Catalog (Pricing & Pricelist Management)
Marketing Automation (Marketing List & Campaign Management)
Sales Automation (Lead, Opportunity & Quotation Management)
Customer Support Services (Service Request & Case Management)
Sales and Purchase Order (Order and Invoice Management)
Sales and Distributor Channel Management
Purchase and Vendor/Supplier Management
Warehouse and Inventory Management
Accounting Ledger and Reports
---

Integrated - SMS Gateway, IVR System & IoT
Enterox Enterprise Messaging, SMS Gateway and IVR System add automated communication feature to ERP Solutions available on Enterox Cloud. It provides Bulk SMS, transactional Text Messaging and Interactive Voice Response (IVR) capabilities to Business Solutions running on Entrox Enterprise Cloud.
Enterox Enterprise Software supports Internet of Things, IoT platform protocols such as websocket and MQTT (Message Queue Telemetry Transport) that enables embedded computing devices to connect with Enterprise Software (Business Solutions).
Enterox Enterprise, Integrated Systems are available as Cloud Services and also as Private Cloud Server (packaged Software and Hardware) providing integrated SMS Gateway, IVR System and IoT Gateway.
Note: Enterox - Enterprise Messaging - Private Cloud Server is currently limited for companies in India only.
---
Get Your Cloud ERP Software!
Enterox Enterprise Resource Planning (ERP) Software as a Service also provides simple solution for Business Activity Management.
Get in touch